NEW DELHI: India's run-machine
Virat Kohli
is on the cusp of adding another remarkable feat to his illustrious career as he prepares to step onto the field for the 500th time in international cricket. This momentous occasion will take place during the second and final Test against the West Indies in Trinidad, where Kohli will join an esteemed club of cricketing legends.
The 34-year old Kohli's performances across all formats of the game have been consistently exceptional, solidifying his status as one of the finest cricketers of his generation.
On Thursday, when India take on the West Indies in the second Test, Kohli will become the fourth Indian player to reach the remarkable milestone of 500 international caps, an achievement only accomplished by a select few in the history of cricket.
The elite list includes the iconic Sachin Tendulkar, who reigns supreme with a staggering 664 international appearances. Joining him are two other revered figures of Indian cricket – former captain MS Dhoni, who has represented the country 538 times, and the current coach Rahul Dravid, with 509 international caps to his name.
Others in this elite list are: Mahela Jayawardene (652), Kumar Sangakkara (594), Sanath Jayasuriya (586), Ricky Ponting (560), Shahid Afridi (524) and Jacques Kallis (519).
Throughout his journey, Virat Kohli has been an inspiration for aspiring cricketers, setting new standards of fitness and determination.
Dravid on Kohli's legacy
"I think it is fantastic and he (Kohli) is an inspiration to so many players within this team and to so many boys and girls back home in India," Dravid said ahead of the second Test against the West Indies.
"His numbers and his stats speak for themselves and his performances are all there in the (record) books.
"For me what has been great to see first-hand is the effort and the willingness and the work he puts in behind the scenes when no one is watching and that is reflected in the fact that he has been able to play 500 games.
"He is still going very strong, is very fit and the energy and enthusiasm he brings to the game in spite of playing 500 games and being around here for 12 or 13 years now."
Dravid said Kohli had made many sacrifices throughout his career and that was a major reason why he has been able to stay at the top of his game for so long.
"It is truly fantastic and it has not come easy. It has come because of a lot of hard work behind the scenes and a lot of sacrifices he has made throughout his career and is willing to continue to make," Dravid noted.
"That is something that is great for a coach as you can see a lot of the young players look at that and be inspired by that and you don't need to say anything.
"Just by the way you conduct yourself and the way you carry yourself, the way you go about practices, the way you go about your fitness, it becomes an inspiration for a lot of young players that are coming through the system and hopefully they are inspired by Virat.
"Longevity comes with a lot of hard work, discipline and adaptability and he has shown all of that, so long may it continue."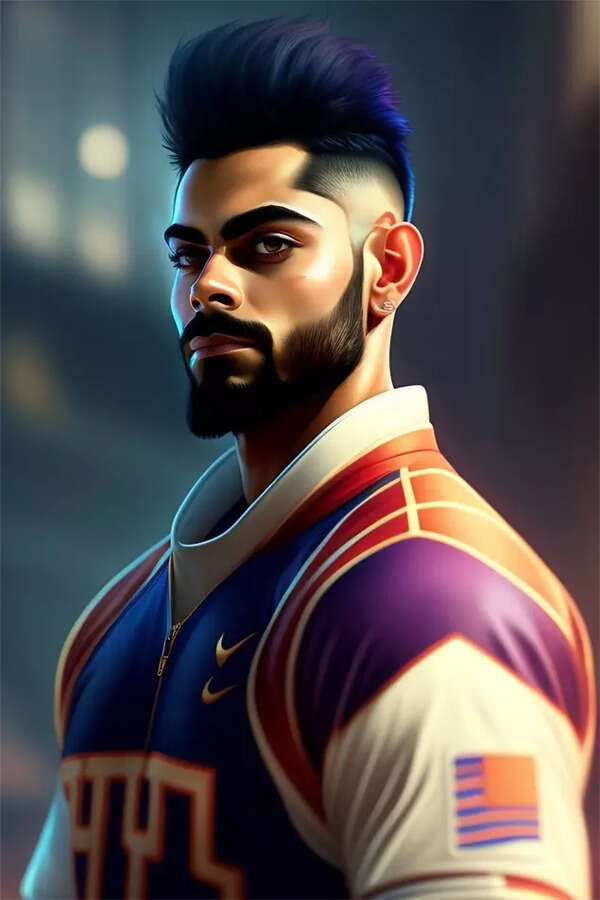 Kohli's career in numbers
* Kohli has played 110 Tests for India and has amassed 8,555 runs at an average of 48.88. He has scored 28 centuries and 29 half-centuries, with a top score of 254*.He is India's fifth-highest run-scorer in Tests.
* Kohli has a total of seven double centuries in Tests, which is the highest by an Indian batter. The highest number of double tons are hit by Australian legend Don Bradman, who has scored 12 of them.
* Kohli led India in 68 Test matches. He has won 40 Tests, lost only 17 and drawn 11. With a win percentage of 58.82, he is one of India's best Test captains.
* In 274 ODIs, Kohli has scored 12,898 runs at an average of 57.32. He has scored 46 centuries and 65 half-centuries. He is India's second-highest run-scorer in ODI cricket.
* Kohli is the highest-run scorer in the T20Is. In 115 matches, he has scored 4,008 runs at an average of 52.73. He has scored one century and 37 fifties in the format, with the best score of 122*.
* Overall in 499 international matches, Kohli has scored 25,461 runs at an average of 53.48 in 558 innings. He has 75 centuries and 131 fifties, with best score of 254*. He is the sixth-highest run-scorer in the sport's history and has the second-highest number of centuries.