Throwers have no finish line. We are lucky we have the javelin, says India's World Champion
With his World Championships gold,
Neeraj Chopra
's status of India's "best-ever athlete" received yet another stamp of confirmation. Neeraj's path to dizzying heights has been one filled with grit, tenacity, sacrifices and an innate ability to shut out the outside noise.
It's now a well-known story that when he started throwing a spear, it was Czech great Jan Zeleznywhose videos on Youtube inspired him to take up the sport.He spent hours watching the three-time Olympic and world champion's videos.
World Athletics Championships: Neeraj Chopra wins gold, who said what
Last year, Neeraj met his childhood idol and had a lengthy talk with him. Although they aren't quite the master-apprentice pair, but both have immense respect for each other. Zelezny, in a recent interview, said that he expected Neeraj to win multiple medals at the Olympic and Worlds stage.
The gold in Budapest on Sunday was Neeraj's second Worlds medal, after a silver last year. But despite garnering so much success, Neeraj is hungry for more. He makes no secret of it.
"There is a saying that throwers have no finish line. The best thing is that we have our javelin. We can always push ourselves. I may have won a lot of medals but the motivation is to throw farther and farther," Chopra told gathered members of the media over a Zoom call from Budapest after winning the gold on Sunday.
"By winning these medals, I should not think that I have achieved everything. I will work harder, push myself harder to win more medals and bring more laurels for my country. I am hungry for more."
"Proud moment for India": Neeraj Chopra's father Satish Kumar on his gold medal at WAC
The one feat left for Neeraj is to cross the coveted 90m mark. The talk of throwing 90m has been going on for the last two-three years. Neeraj insisted it's not a mental hurdle for him and he will cross the barrier one day.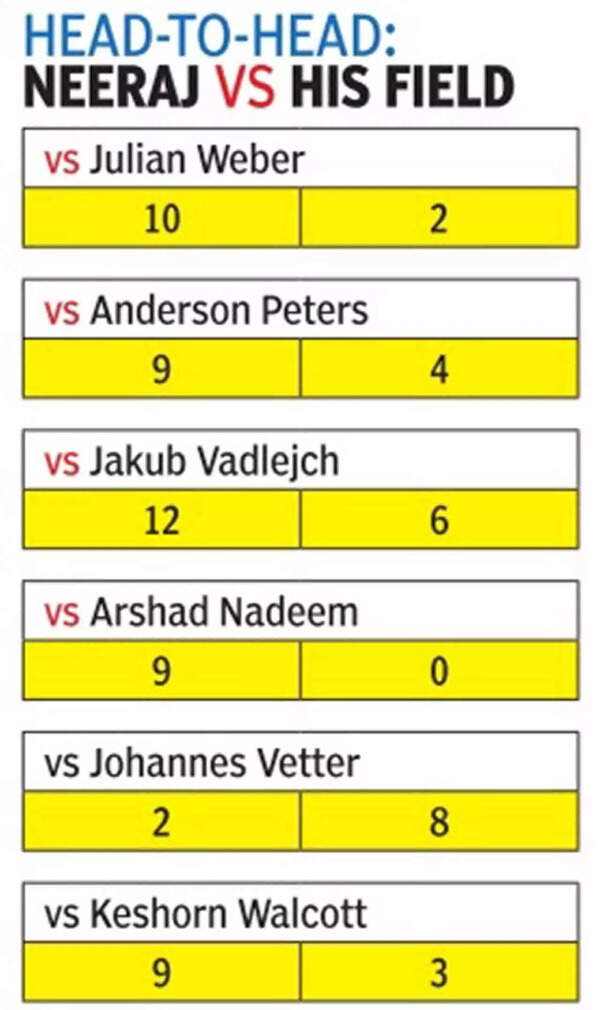 "I have been feeling very good since the last two years, and this year I thought I would throw 90m. Even today, after my second throw (for 88.17m), I felt I could do breach the 90m today. But when I suffered a groin injury earlier in the season, it created problems. I had throws very close to 90m last year. It will come someday, but don't know when. I won't be taking pressure thinking about that.
"What is more important is the medal. I give more importance to consistency, and that gives confidence in big events. When I reach 90m, I will again try and maintain consistency. I have been working hard and waiting for it to come," he said.
For Neeraj, it was a dream to become the world champion as the "competition is even tougher" than the Olympics. "This feeling is very different. The Olympic gold was very special, but winning at the World Championships is very big," the 25-year-old said.
Neeraj praised the other two Indians in the final – Kishore Jena and DP Manu. Both impressed on the big stage. Jena with a throw of 84.77m (his personal best) finished fifth, while Manu came sixth with his best being 84.14m.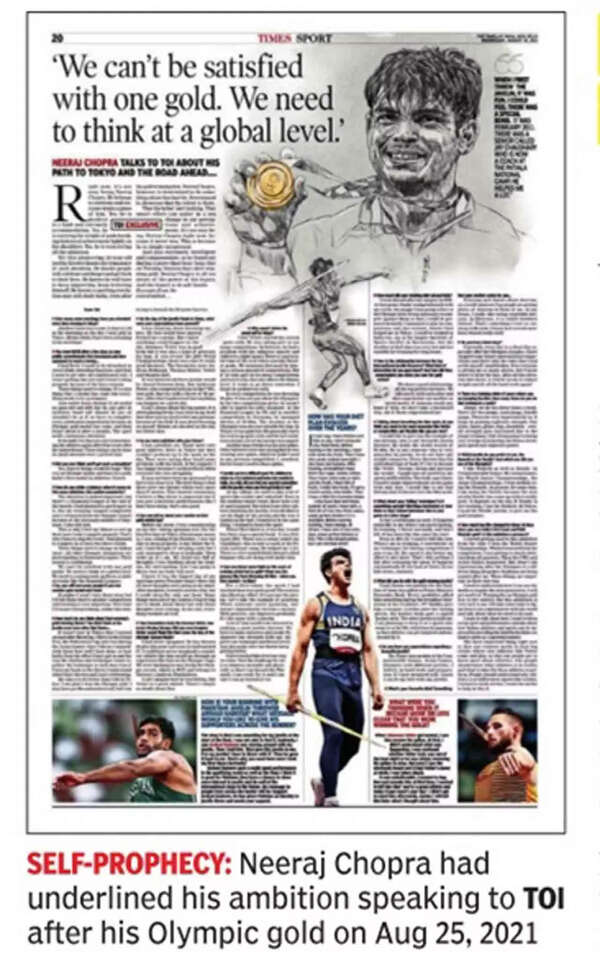 "The good thing about the final was that not just I won, but there were two other Indians who did really well. I am really happy for Kishore Jena, who threw his personal best, and even DP Manu threw exceptionally. It is a great achievement for India that both finished in the top-six. What was incredible that in such a big competition they didn't show any nerves and gave their best. It gives us hope that we will do well at next year's Olympics," Neeraj said.
"After such a performance at a competition of this stature, I was talking to Adille (Sumariwalla) sir (the Athletic Federation of India president) about preparing a Mondotrack in India," he added.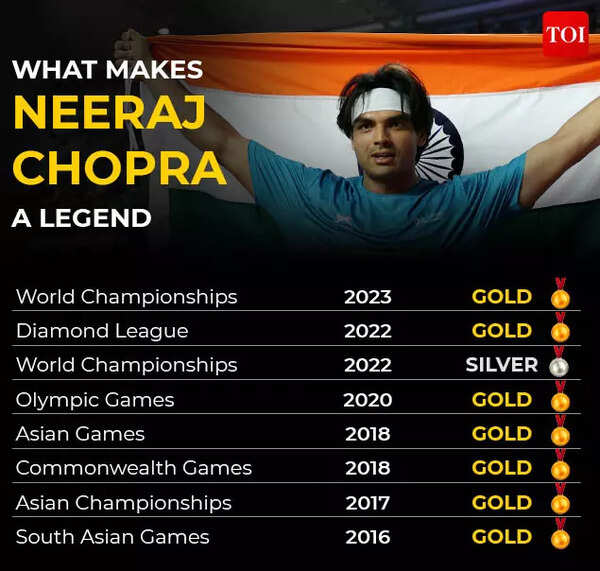 A Mondotrack is a trademarked synthetic track surface used for track and field athletics. It is developed by Mondo Worldwide, a world leader in track and field surfacing.
About his "rivalry" with Pakistani thrower Arshad Nadeem, who won silver on Sunday, Neeraj said he just doesn't think about Nadeem as his competitor when he steps on to the track.
"It is being made like that (India-Pak rivalry) back in the two countries. Before a competition, I don't use a mobile phone much; but when I opened it today, I saw India vs Pakistan everywhere. It's all right. There (back home) we always have this India-Pakistan thing. It makes good headlines, but in global events we have to focus on every competitor. If you see the European athletes, they are very tough; they can do anything, anytime."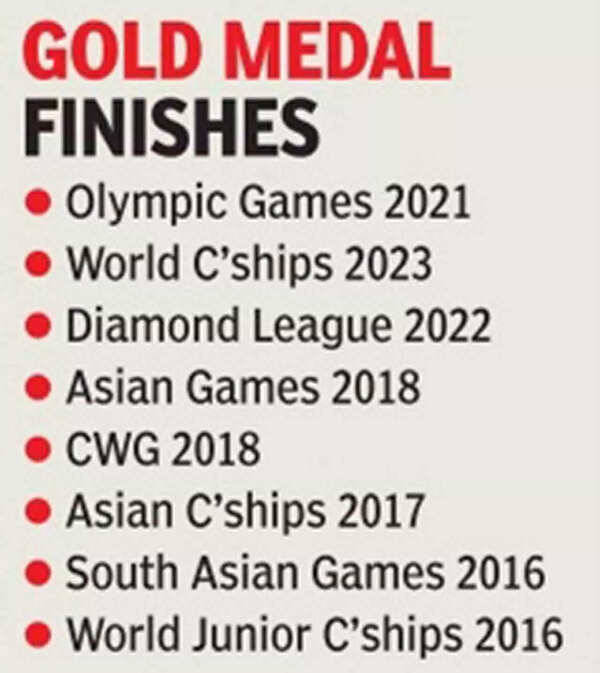 Watch: Neeraj Chopra becomes India's first World Athletics Championships gold medalist
Watch Neeraj Chopra wins gold medal in Men's Javelin at the World Athletics Championship 2023