An ancestry of blue blood, merged with litterateurs and creativity runs in Bollywood.
Saif Ali Khan
, who hails from a royal family, also has an inter-relation to famed poet Mirza Ghalib, while his mother Sharmila Tagore comes from the bloodline of celebrated Nobel laureate Rabindranath Tagore. True royalty flows through Bollywood!
In today's segment of ETimes BFFs (Big Filmy Families), we decode the bond between an illustrious generation of Nawabs and a lineage of brainy minds, who eventually gave the entertainment industry a plethora of talent.
Iftikhar Ali Khan Pataudi
The last ruling Nawab of the Pataudi family, Iftikhar Ali Khan, was born to Nawab Muhammad Ibrahim Ali Khan of Pataudi and his wife Shahar Bano Begum. He was the only Test cricketer to have played for India and England. Iftikhar Ali Khan represented the England team in test matches in 1932 and 1943, while he captained the Indian cricket team in 1946.
In 1939, Nawab Iftikhar Ali Khan married Nawab Begum Sajida Sultan, the daughter of the Nawab of Bhopal. They had four children, Mansoor Ali Khan Pataudi, Qudsia Sultan, Saleha Sultan and Sabiha Sultan.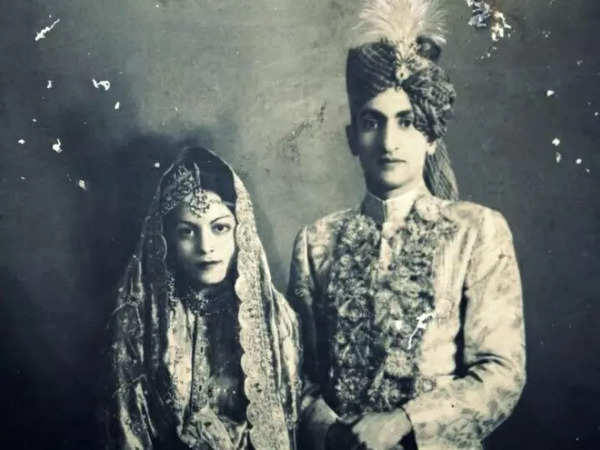 Image Courtesy: Saba Ali Khan
Inter-relation with Mirza Ghalib
In 1810, celebrated Urdu and Persian poet Mirza Ghalib was married to Umrao Begum, daughter of Nawab Ilahi Bakhsh Khan, the younger brother of the first Nawab of Loharu, Ahmad Baksh Khan. Decades later, in 1939, Mansoor Ali Khan's grandfather and Saif's great-grand father, Nawab Ibrahim Ali Khan Pataudi married Shahar Bano Begum, daughter of Nawab Amiruddin Ahmad Khan, a descendant of the first Nawab of Loharu, Ahmad Baksh Khan.
Mirza Ghalib and Nawab Ibrahim Ali Khan Pataudi were both married to Begums from the Loharu dynasty.
ETimes was able to confirm this connection, which dates back to the 19th century, with the Pataudi and Loharu families.
Mansoor Ali Khan Pataudi
The flamboyant Indian captain and effervescent descendant of the Pataudi lineage, Nawab Mohammad Mansoor Ali Khan Pataudi lived an illustrious life. He was the son of Iftikhar Ali Khan Pataudi, the last ruler of the princely state of Pataudi during the British Raj and the Nawab Begum of Bhopal, Sajida Sultan. Mansoor succeeded as the ninth Nawab of Pataudi upon the demise of his father in 1952, which coincided with his 11th birthday.
On the field, Mansoor Ali Khan was best known as a right-handed batsman and a right-arm medium pace bowler. In his distinguished career, Mansoor was named as the first Indian captain when he played for Oxford at the age of 16. A road accident in 1961 left him with a damaged right eye, but the Nawab refused to give up his passion for cricket. Mansoor, who was fondly referred to as Tiger Pataudi, was named the Indian cricket team's captain at the age of 21.
Following the passion for cricket in the family, The Pataudi Cup was announced in 2007, for the winner of a test series between England and India, contested in England. It was announced on the occasion of the 75th anniversary of India's first Test match in 1932.
Celebrating his contribution to the country, Mansoor Ali Khan was conferred with the prestigious Arjuna Award in 1964 and the Padma Shri in 1967.
Mansoor Ali Khan married Sharmila Tagore on December 27, 1968. They had three children, Saif Ali Khan, Saba Ali Khan and Soha Ali Khan.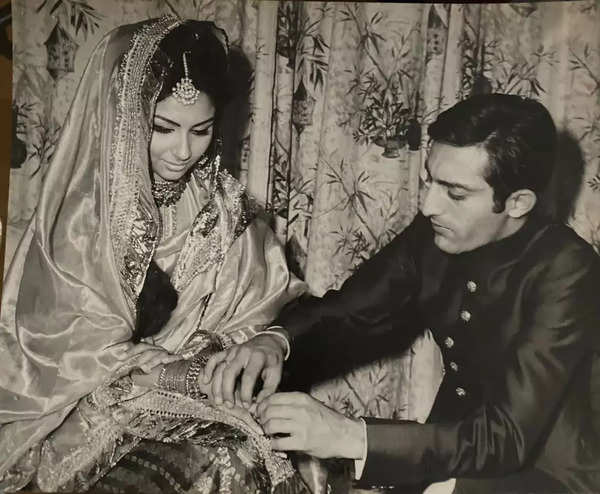 Image Courtesy: Saba Ali Khan
Sharmila Tagore
Eldest child of Gitindranath and Ira Tagore, Sharmila faced the camera at the age of 13, in celebrated filmmaker Satyajit Ray's Bengali film 'Apur Sansar' in 1959. A few years later, Sharmila marked her entry in Bollywood with Shakti Samanta's 'Kashmir Ki Kali' (1964). Over the years, Sharmila has featured in countless hits like Waqt (1965), Anupama (1966), An Evening in Paris (1967), Chupke Chupke (1975), and Namkeen (1982) to name a few. After over a decade, Sharmila Tagore made her comeback with the OTT movie Gulmohar (2023). The veteran actress has to her credit two National Awards, she won the prestigious honour for 'Mausam' (1976) and 'Abar Aranye' (2003). She was honoured with a Padma Bhushan in 2013.
Away from the din of Bollywood, Sharmila Tagore enjoys a quiet life in Delhi, making occasional visits to Mumbai. She had once said that Delhi holds a special place in her heart because it is her 'sasural' and is close to Pataudi.
A descendant of Rabindranath Tagore
Sharmila Tagore hails from the enriching lineage of distinguished poet, writer, social reformer and painter, Rabindranath Tagore. While she was born years after the Nobel laureate passed away, Sharmila had ancestral relations to him from her maternal and paternal families. Sharmila Tagore's paternal great grandfather Gaganendranath Tagore was a nephew of Rabindranath Tagore. While her maternal grandmother Latika Tagore was the granddaughter of Rabindranath Tagore's brother Dwijendranath Tagore.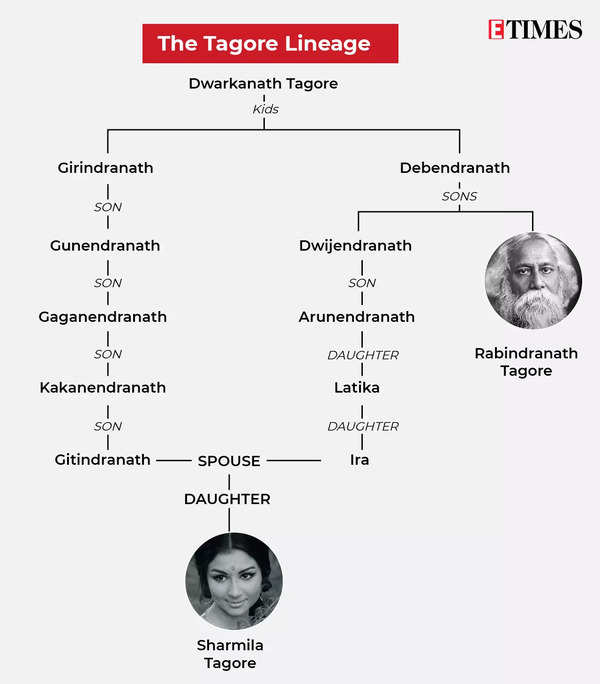 Saif Ali Khan
Mansoor Ali Khan and Sharmila Tagore's first born, son Saif, is the 10th Nawab of Pataudi. He was conferred with the title in a symbolic pagri ceremony held in Pataudi, after his father's demise in 2011. After early schooling in Himachal Pradesh, Saif was sent to Lockers Park School in the UK, a private boarding school for boys. He graduated from Winchester College in the UK and upon his return to India, he took up a job in an advertising firm. Within months, Saif quit the position and went on to follow his mother's footsteps, to pursue a successful career in films.
Amrita Singh
Saif Ali Khan met his future wife while shooting a photoshoot, ahead of his debut movie. After dating for a while, the couple got hitched in 1991. A popular actress at that time, Amrita was 12 years older than Saif. The couple have two kids – Sara and Ibrahim. After 13 years of marriage, Saif and Amrita parted ways in 2004.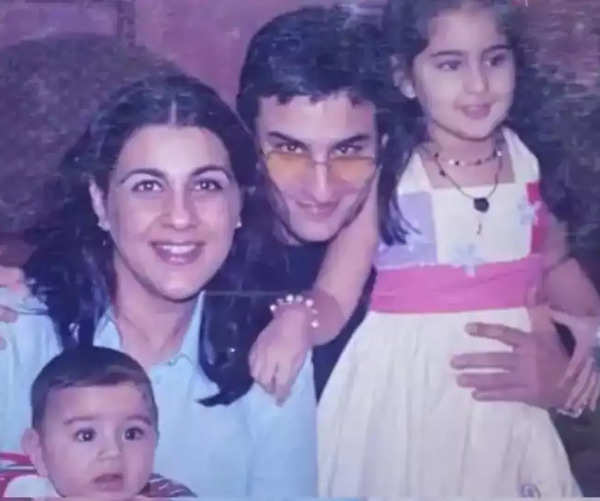 Sara Ali Khan
Saif Ali Khan and Amrita Singh's eldest daughter, Sara, is an established actress. Sara has a degree in history and political science from Columbia University. Post her graduation, she was determined to become an actress and successfully debuted in 2018. Sara Ali Khan is now a regular face on the big screen and OTT.
Ibrahim Ali Khan
After working as an assistant director to Karan Johar on 'Rocky Aur Rani Kii Prem Kahaani', Ibrahim is all set to face the camera. His debut movie is titled 'Sarzameen', co-starring Prithviraj and Kajol in pivotal roles.
Kareena Kapoor Khan
Celebrated actors Randhir Kapoor and Babita's daughter Kareena entered the royal lineage of the Pataudis as Saif Ali Khan's wife. Popularly known as Bebo, she was a well established actress before she met Saif on the sets of Tashan in 2008.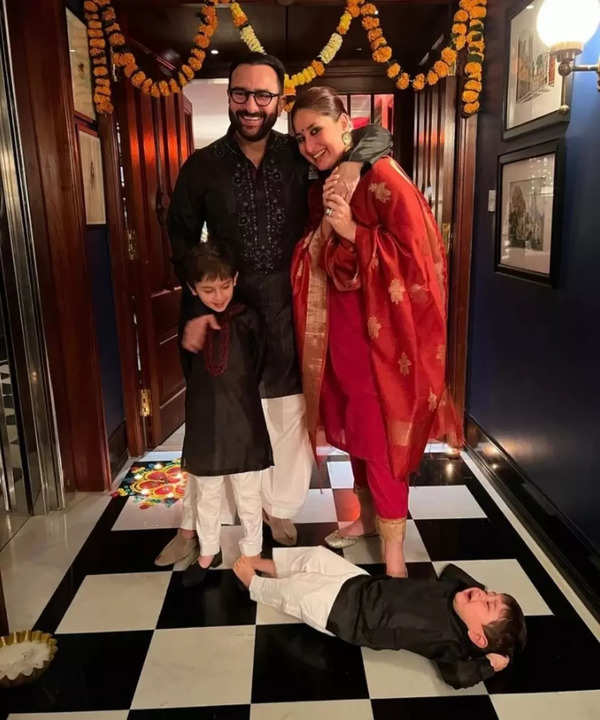 Taimur Ali Khan
In December 2016, Kareena and Saif welcomed their first child together, Taimur Ali Khan. Soon after, there was outrage against the couple for naming their son after a Turkish ruler who had invaded India. Saif had later clarified that the ruler was Timur while his son was Taimur. He had also explained that Taimur is an ancient Persian name meaning iron.
Jehangir Ali Khan
Saif Ali Khan and Kareena Kapoor's youngest child, who is fondly called as Jeh, was born during the pandemic. He turned two on February 21, 2023.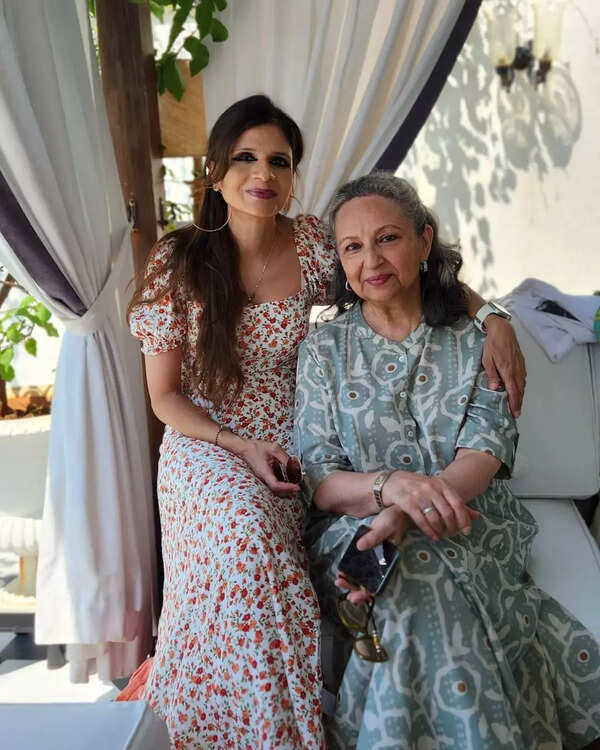 Image Courtesy: Saba Ali Khan
Saba Ali Khan
Preferring to stay away from the limelight, Saba is carrying on the family's royal lineage and fulfilling the duties as the chief custodian of the Royal Endowment Trust, Bhopal. She worked as Mansoor Ali Khan Pataudi's Naib Mutawalli (deputy) and after his demise she was named the official Mutawalli of the Aukaf-e-Shahi Trust by the Wakf Board. Saba plays the supervisory role for assets worth billions owned by the Wakf Board. An avid photographer, Saba also enjoys jewellery designing, tarot reading and is a spiritual healer as well.She is the only child of Sharmila Tagore and Mansoor Ali Khan Pataudi who did not venture into films.
Soha Ali Khan
Mansoor Ali Khan Pataudi's youngest born, Soha, embarked on her journey in front of the camera in 2004. In 2015, she married Kunal Khemu, who is also a successful actor. The couple turned parents to Inaaya Naumi Khemu in 2017.