NEW DELHI: A 5.4-magnitude earthquake hit Jammu and Kashmir on Tuesday, as a result of which Delhi and several parts of north India experienced tremors.
"Tremors might have been felt in Himachal Pradesh, Chandigarh, Punjab and all adjoining areas. The aftershock could be of a lesser magnitude than the main shock," National Center for Seismology director Dr OP Mishra said. He also said that it occurred in Doda..
The quake occurred 30km southeast of Kishtwar in Jammu and Kashmir, as per the European-Mediterranean Seismological Centre.
The depth of the earthquake was 60 km (37.28 miles) and the epicentre of the quake was at a distance of 99 km north of Pathankot, the EMSC said.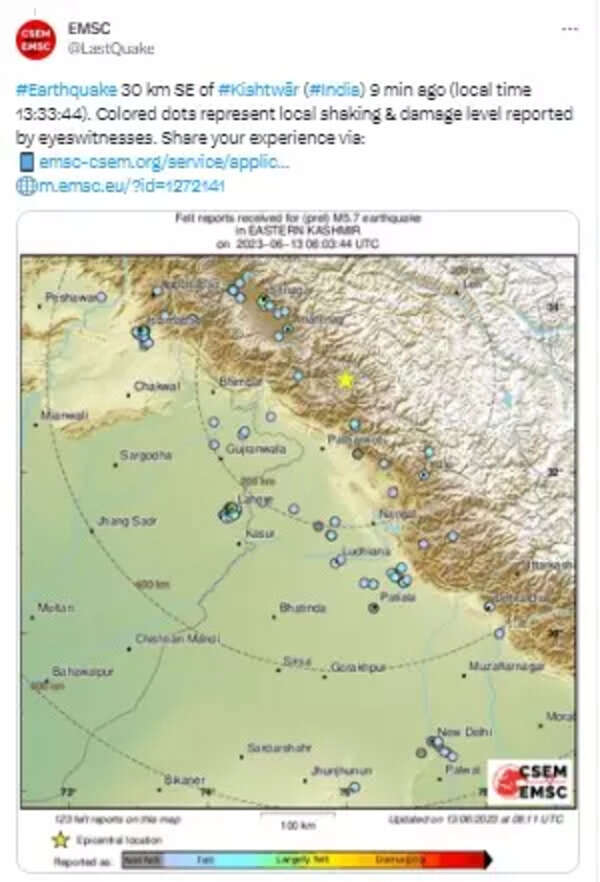 Reacting to Tuesday's earthquake, a Srinagar resident said, "The earthquake scared school children. People in shops rushed out. It was scary. This was more intense than the tremors last week…"
More details are awaited.